Family tradition from Jílovice
Anton Kaapl Distillery
Familientradition aus Gilowitz
Quality and fine spirits from a family distillery with a family recipe and modern production technology. Selected fruit, a carefully managed fermentation process, multi-stage distillation and alcohol ageing. For the distinguished palate, an exceptional delicacy.
About us
Anton Kaapl
Anton Kaapl (1884 – 1948) belonged to one of the oldest families living in Jílovice at least since 1658. He was the founder of the family tradition of distilling fruit spirits. A war veteran, he fought in the Great War for the Austro-Hungarians on the east front. After a serious injury, he was released to civilian life in 1916. After the establishment of an independent Czechoslovakia in 1918, he was mayor and deputy mayor of Jílovice until the red revolutionaries of the National Committee took over in 1945.
On the basis of the long experience in the distillation of fruit spirits, a Czech family distillery was established in the South Bohemian village of Jílovice. In memory of its Austrian-Hungarian distiller's roots, it is called Anton Kaapl and the labels on the bottles present the caption in German, "Familientradition aus Gilowitz".
Family recipe
Spirits
An original family recipe and modern production technology. We personally select the fruit from proven Czech and European fruit growers.
We dilute our mature spirits with soft demineralized water from 102-metre-deep well in the Klikovský formation of the Třeboń Basin.
For our business partners we have prepared wholesale prices. If you are interested in cooperating, please contact us at lihovar@foneka.cz
PLEASE YOUR family and friends
Gift packaging
Luxury gift packaging in folding boxes made of hard paper of 1.4 mm thick with an offset- coloured print and matt lamination filled with a bottle of one of our quality spirits and tasting glasses made of Czech glass.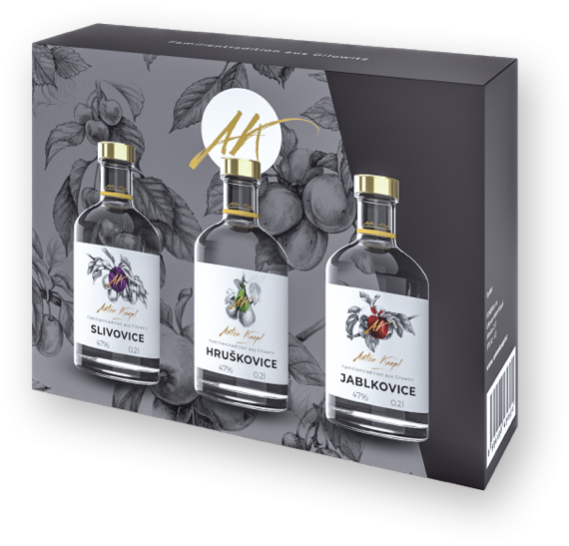 OUR NOVELTIES
AK on instagram
SEE OUR NEW CATALOGUE IN PDF
News